Prevent & Protect With an Effective Solution
If you want to understand one thing about WJ Office, it's this - we always respond to the needs of the marketplace as expressed by our customers. It's just our way.
Cleaning supplies and products have been a part of our product offering for several years. However recent events around the world - including a pandemic of epic proportions - has put office safety and hygiene in the forefront of every business, school, healthcare facility, restaurant, hotel, church - you name it. And as we continue to move forward bringing more employees and customers back into our facilities, it is vital we do everything possible with the technology and science at our hands to ensure the wellness of the people we interact with within our facilities and buildings.
BioProtect Surface Treatments - an entirely unique form of disinfecting and sanitizing that lays down a protective barrier against problematic bacteria, fungi, algae and other microorganisms that typically inhabit and even colonize indoor surfaces. Learn more now.
Enhanced Cluster Ion Systems - using enhanced photocatalytic oxidation (PCO) technology, now regarded as one of the most promising methods of indoor air pollution remediation.  Learn more now.
BioTab 7 is an amazing, advanced fast-acting biocide cleaner that disinfects, sterilizes, deodorizes AND is far safer to your environment than chlorine or quats. With a kill time of just 60 seconds, it safely kills all bacteria, viruses (including the coronavirus), fungi, mold, and algae. Plus, since it is in tablet  form, it's very easy to store. It can be used on any surface, including food preparation surfaces.
BioProtect enables you to have peace of mind knowing that once you disinfect with BioTab 7, you can lock in that protection with this antimicrobial sealant which "mechanically" kills pathogens and superbugs for the next 90 days without having to reapply. Other disinfectants are effective until the surface is touched. With BioProtect, you apply it once and you are protected for the next 3 months without disrupting your normal cleaning regimen.
Complete BioBundle (ID #BIOBUNDLE)
1-Gallon BioProtect
1-Pack of 25, 1-Gram BioTab7 Tablets
1 32-Oz Spray Bottle
24-Quart Charging Bucket
12-Pack of Microfiber Cloths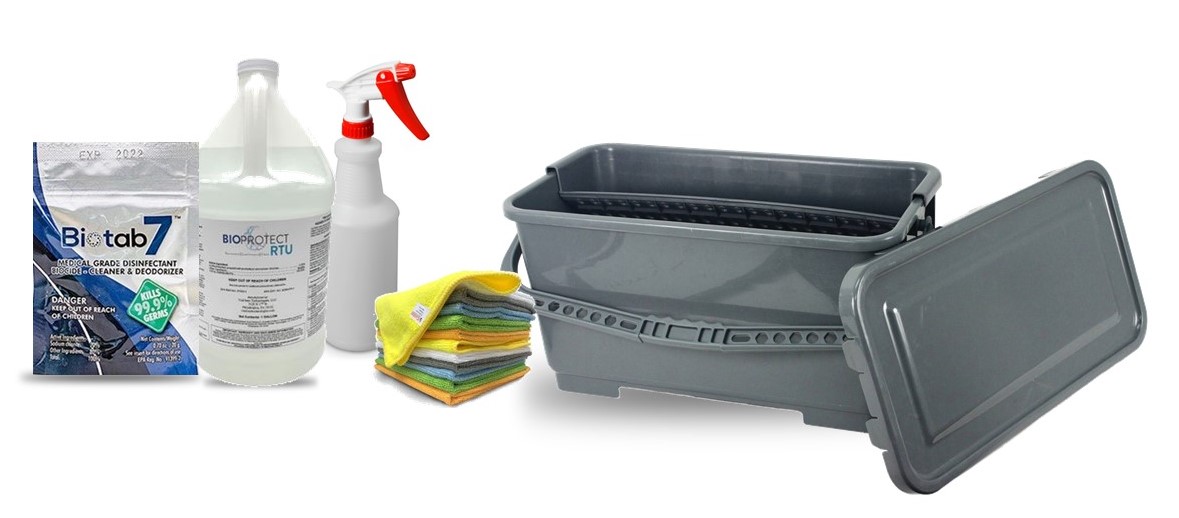 Contact Us for for More Information on this Product Offering.