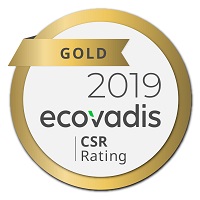 Among the recent honors was a Gold Recognition ranking from EcoVadis, which placed HP in the top 1% for all companies assessed and suppliers in the computers and peripheral equipment manufacturing category. This is the 10th consecutive year HP has made this list, which benchmarks companies in four categories: environment, labor practices, fair business practices, and suppliers.
HP also placed 1st on Newsweek's inaugural "America's Most Responsible Companies" listing. Working with research firm Statista, Newsweek surveyed 2,000 public companies across 14 industries to determine the top 300. The detailed analysis consisted of a performance assessment in several categories, including water and energy use, leadership diversity, employees and philanthropy, and governance, as well as an independent survey of 6,500 U.S. citizens.
In addition, HP ranked 11th on the Wall Street Journal's Management Top 250 list, which evaluated 820 companies on five criteria. HP was one of just eight companies to be named an "all-star"—receiving five stars in the customer satisfaction, innovation, and social responsibility categories, and four stars for employee engagement and development, and financial strength.
These awards and recognitions highlight how HP can help partners and customers reduce their business risk and drive innovation, while fostering transparency and trust between trading partners.